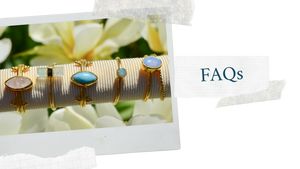 1. What are the products made out of?
All our products are made from 925 Sterling Silver, NEVER brass & always nickel free - we're not about that. Then each piece is Gold plated, in 22ct gold). I take great care to ensure our jewels are coated in the thickest gold plating possible here in Bali, always a minimum of 3 microns & most products have 5 microns of gold.
2. How can I ensure my jewellery stays shiny & gold?
As per the care note on your packaging, your CANTIK jewels will stay shiny & golden provided you avoid excessive exposure to the sea, showers, sun, scents & sweat. As with any gold plated product, if you look after your product it will stay shiny for you. 
3. What kind of postage & packaging do you offer?
I want to ensure your beautiful CANTIK jewels reach you quickly & in the best condition possible. All our jewellery comes packaged by hand in a branded dinky linen bag so your jewels are well protected when in the post. To avoid excess packaging, gift boxes are optional (add at checkout) & are fully recyclable. A hand-written postcard from Bali is also included with every order.
4. How do you pronounce "CANTIK"?
This one comes up a lot! 'Cantik' is an Indonesian word for beautiftul & is pronounced 'Chan-teak' like Antique.
5. What is the best way to contact you?
Fancy a wee chat, some CANTIK styling advice or would like to ask me a question? Please do drop me an e-mail info@cantikbycamilla.com & I will get back to you as soon as possible.
6. Is the product posted from Bali?
NO! All stock advertised on the website is held at HQ in Scotland & dispatched from there.